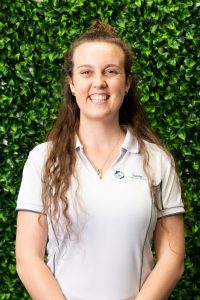 Eden MacNeill
Exercise Physiologist
Eden is an enthusiastic exercise physiologist who loves working with paediatrics, women'sand mental health! Eden has been involved with John Hunter Children's Hospital working with children and adolescents diagnosed with cancer both during and after treatment. She has worked with children and teenagers with autism, mental health conditions, cerebral palsy and motor control issues. Eden loves getting creative and fun with her exercises, so everyone is enjoying themselves.
Eden runs our Women's Health Class where she loves to show off her karaoke skills for them. She works with women of all ages and different conditions including pregnancy, menopause, osteoporosis, polycystic ovarian syndrome, breast cancer and incontinence/prolapse. Edenenjoys making sure mum and bub have an active pregnancy and use exercise to help recovery following birth.
When Eden isn't working, she is trying new activities and adventures. This usually means travelling and exploring the world, so she will be asking you for travel tips and places to go! She enjoys cooking and  learning new skills to share with her family and friends. Eden is passionate about sport, especially football (soccer)! Above all, Eden loves spending time with her family and friends usually involving food and some unnecessary competitiveness.